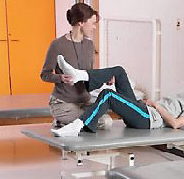 Physical therapists are experts in the assessment and treatment of neuromuscular and musculoskeletal problems that affect movement and function. Physical therapists will evaluate the patient and develop an individualized treatment plan using a variety of therapeutic techniques that promote flexibility, strength, reduce pain and improve overall function.
A pediatric physical therapist specializes in working with children of all ages from birth to 18 years of age. Pediatric physical therapists are professionals who are trained in all stages of child development. They are knowledgeable in evaluating and treating a variety of childhood disorders such as: musculoskeletal conditions, spina bifida, developmental delays, chromosomal disorders, Autistic Spectrum Disorder and Cerebral Palsy.
As physical therapists specializing in pediatrics, we help children to develop self-confidence and functional independence to the best of their ability. Our stimulating therapy sessions incorporate play activities, making it fun for our clients to work on and improve their strength, balance, coordination and gross motor abilities.
Thera-Pede, LLC provides therapy in a variety of settings including: public and private schools, home based therapy services and within the community.
Director

P.O. Box 8348
Saddle Brook, New Jersey, NJ 07663

201-739-7027
home | about | therapy| school based| home based | employment opportunities | contact